January marks the start of Schuylkill Area Community Foundation's (SACF) 50th Anniversary Celebration. We are truly grateful for the opportunity to support the charitable work of our wonderful donors who serve so many people throughout Schuylkill County. Since 1967, it is you - our fund holders, donors, professional advisors, and community partners - who are the greatest measure of our success! In the last fifty years, the endowment funds awarded $7,563,987 in grants and scholarships to nonprofit organizations and students.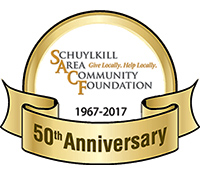 In honor of this significant milestone in the history of the Community Foundation, we are launching a program to raise $50,000 to increase our grantmaking capacity to support the nonprofit organizations in Schuylkill County. You are invited to join the Circles of Giving by making a donation to the Golden Circle or Community Circle. Please click here to view the list of donors for the program.
We encourage you to be a part of this celebration! Please contact Eileen Kuperavage at (570) 624-7223 or ekuperavage@verizon.net to learn more about the Circles of Giving and how you can support the community.
Watch and Learn >>