Applying for 50th Anniversary Grants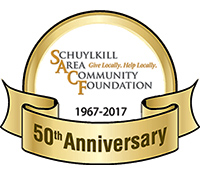 Supported by the Circles of Giving Program
A special grant cycle will be available beginning April 1, 2017 and ending April 30, 2017 to celebrate our 50th Anniversary. These grants will provide financial assistance for projects and programs that will enhance the quality of life in Schuylkill County.
eGrant Application Deadline
April 30. HARD COPY APPLICATIONS ARE NOT ACCEPTED.
Who May Apply
Schuylkill County nonprofits which are Federally recognized 501(c)(3) organizations.
Click here for 50th Anniversary egrant application.